20 questions to ask at a Process Improvement interview
Hiring someone for a Process Improvement role is a serious business. Process Improvement professionals are highly in demand in today's workforce for several reasons:
Pressure on departmental budgets and company bottom lines are increasing the need to remove waste from processes and realize opportunities.
Companies that either grow or shrink are often left with processes no longer fit for purpose.
Technology is disrupting how we do things – and reforming our processes to embed technology within them is now critical.
Process Improvement professionals are individuals who will gain access to all areas of the business (departments) all levels of the business (the leadership team down) and all aspects of operational performance (processes). Given this is the case, finding the right person is crucial. Here we will explore some of the best questions you could ask someone you are looking to hire into a process improvement role.
Questions to ask
For the below questions, the usual caveats apply. The majority of these questions will be competency based as well as theory, so where necessary, always ask for detailed examples to back up the claim.
Walk me through your most success Process Improvement project.
Tell me what obstacles you faced when delivering this project.
What do you think is the biggest challenge facing someone delivering process improvement?
Define what process improvement means to you.
If a process has been successfully reformed, what traits should this process now have it didn't have before?
How have you impacted or changed an organizational culture to make it more open and receptive of process improvement?
When have you seen process improvement deployed badly? What was the outcome?
Which methodologies / approaches have you deployed to deliver process improvement?
What sort of traits would a process in need of improvement / reform have?
How have you sold the vision of process improvement to get buy in from a wider audience?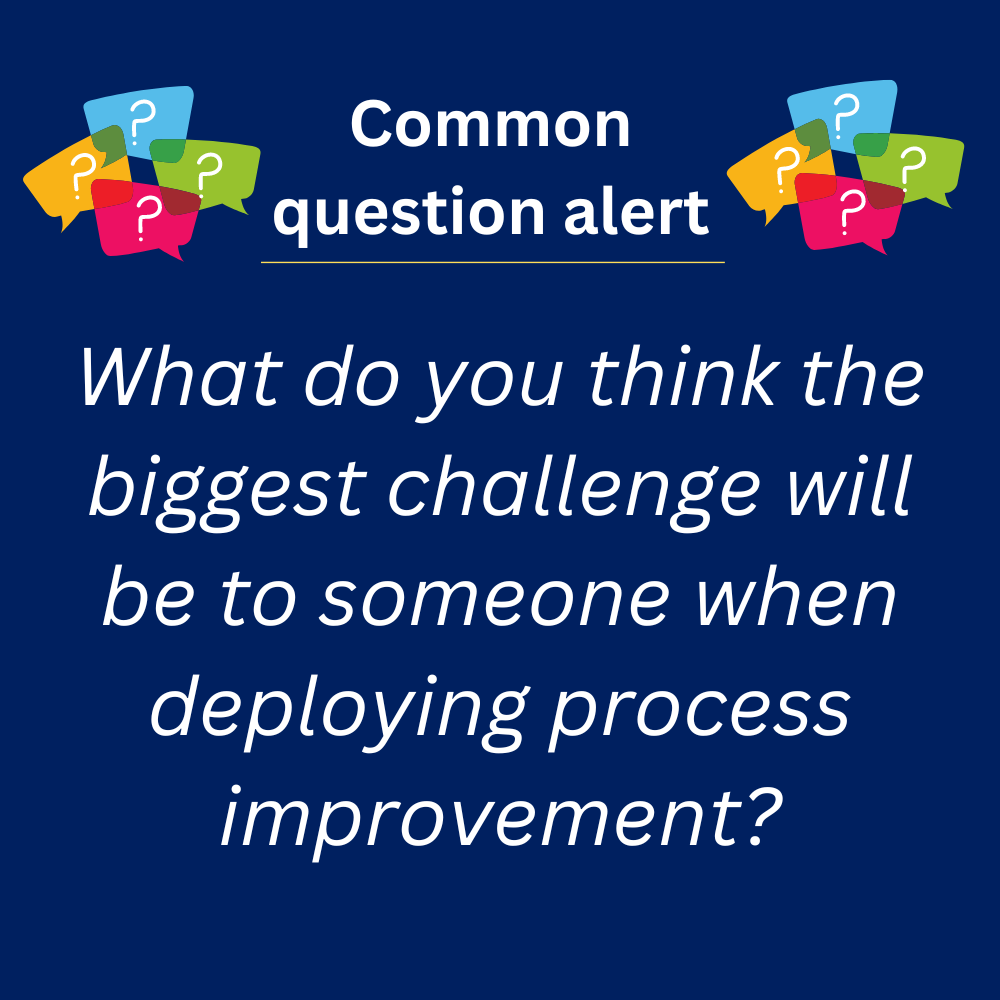 How have you sold the need for process improvement to senior leaders?
What role do you think data plays in the delivery of process improvement?
What techniques do you deploy to win over a sceptic of the idea of process improvement?
How much exposure have you had to senior leaders in you previous roles?
How do you engage with senior leaders and tailor your approach specifically to them?
How do you tailor your approach to wider audiences within a business?
Talk me through how you running a process mapping session. How do you frame it at the start, how do you run the session and how do you close it?
Tell me what preparatory work you would do for a process mapping workshop involving more than 10 people, including those who have never been involved in process mapping before.
If you had to sell me the benefits of having a detailed and up to date process map, available at all times, how would you sell it to me?
What do you think this process improvement role will give you that previous roles have not – how do you see this developing your further in this field?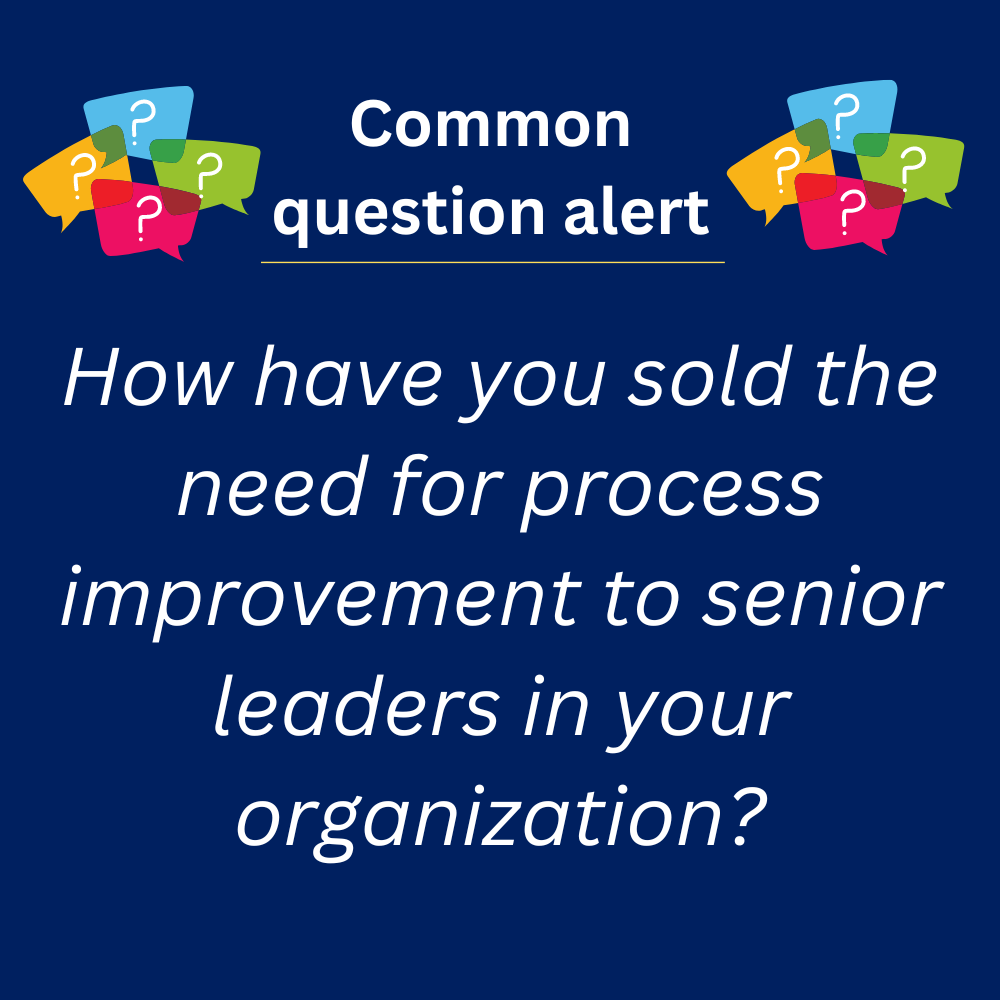 Things to look out for in their answers
When conducting your interview, there are a few key themes you will want to follow:
How successful have their previous projects been, get specific and detailed examples.
Try and gauge their passion for process improvement. It can be a tough job – so passion is required.
Try and understand how they interact with their various audiences. They will be exposed to audiences across all levels so tailoring their approach effectively is important.
How have they worked on the culture of an organization to embed process and continuous improvement more widely? Embedding the right culture is very important if process improvement is to be successful.
Any official qualifications related to this field or plans to gain some.
In terms of their characteristics, do they speak about their experiences and the topic of process improvement with passion and vigor?
Are they excited about that which is being proposed in the new role?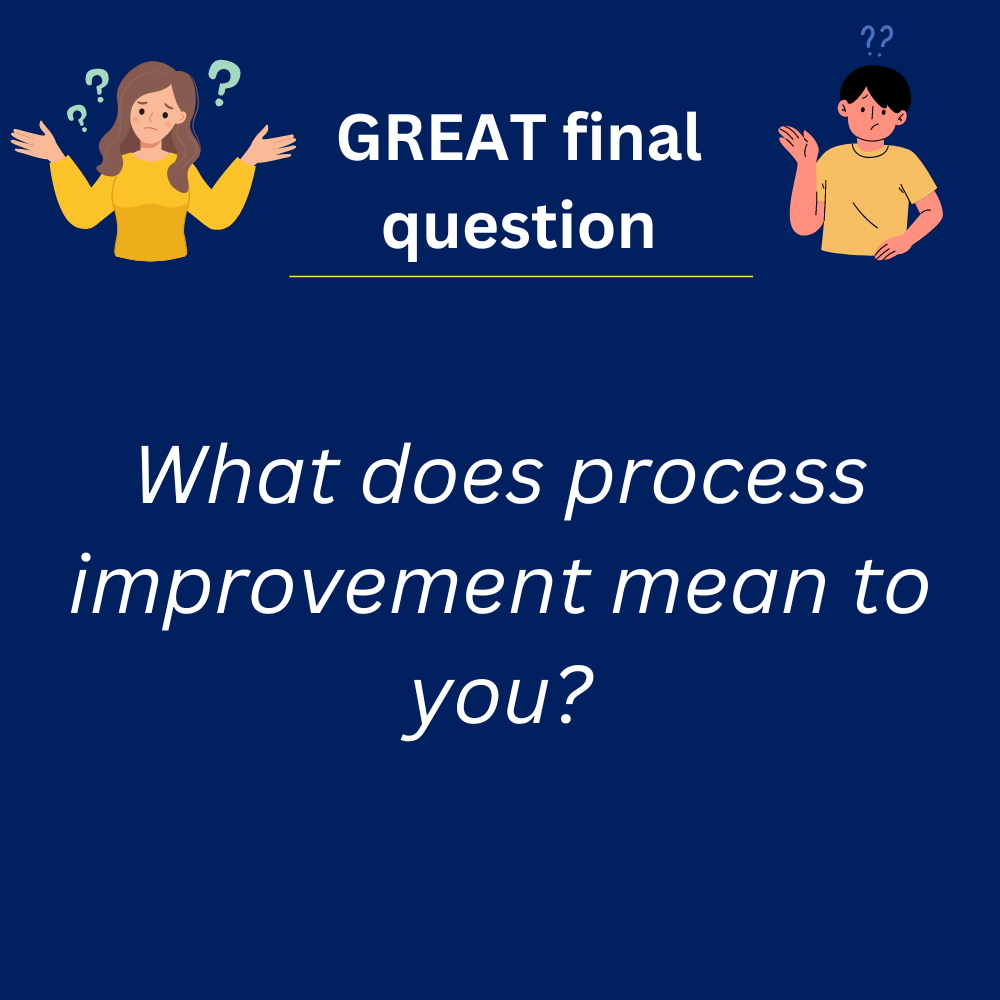 You always want to look out for someone who shows that this is a passion for them, not simply a job. Given the highly complex and diverse nature of roles like this, you need to ensure the person would want develop their career in this field. It is someone who wants to move from Process Improvement Coordinator, to Analyst, to Senior Analyst, Lead and then Manager. It will need to be someone who wants to gain really strong experiences along the way, upskill and certify in the range of techniques and approaches available in this field, including Lean Six Sigma.
Knowledge will get a Process Improvement person only so far. They need passion to get them over the finish line.
Conclusion
As with any interview, you often get a "feel" for someone and a feeling that this person is the right or wrong fit. When it comes to Process Improvement, this feel should actually be quite evident. Given the nature of Process Improvement roles, they are not for the faint hearted. They are going to involved a range of skillsets such as confidence in presenting, with people and with their work. They will need to be analytic, logical and process led. They will need to be able to juggle a range of projects at once, spending one day facilitating a mapping workshop, the next day conducting extensive data analysis and the next day delivering an improvement solution.
Therefore, when it comes to interviewing someone from a Process Improvement perspective, make sure the questions you ask leave you with no doubt in your mind that this is an individual committed to this line of work, passionate about processes and the people who deliver them.
If you would like to sharpen your skills and knowledge on all things Process Improvement, including the method to deliver it, the mapping tools available and the facilitation, analysis and design skills required, why not check out our hugely popular Process Improvement course here.